Everybody wants to feel loved and I am no different in that respect. Believable love scenes and tender kisses are some of my favourite things to watch on screen for various reasons. Below are my first five favourite kisses. I wonder what yours are..
10. E.T: The Extra-Terrestrial (1982)
I have included this one purely because of the cutesy factor.
Drew Barrymore
was absolutely adorable in her role as Gertie and well, you'd have to have a heart of stone if you didn't fall in love with E.T itself. This kiss is a 'goodbye' kiss (and the first of a few in my list) between the child and alien and it's more than touching enough to belong here.... awwwwww! ps: it ALWAYS reduces me to tears.
9. Pirates Of The Caribbean: At World's End (2007)

What isn't there to love about a kiss during a wedding that is in the midst of a crazy sword fight? This kiss between Will and Elizabeth in the third Pirates film is a culmination of of their love affair played out over the three films and has all the passion that you would expect. Add some stormy weather, a rushed together wedding (so romantic) and a battle of all battles and this kiss truly left me breathless. Knowing that Will dies moments later makes my stony heart melt and makes this, for me, the most poignant of kisses across the Pirate's franchise!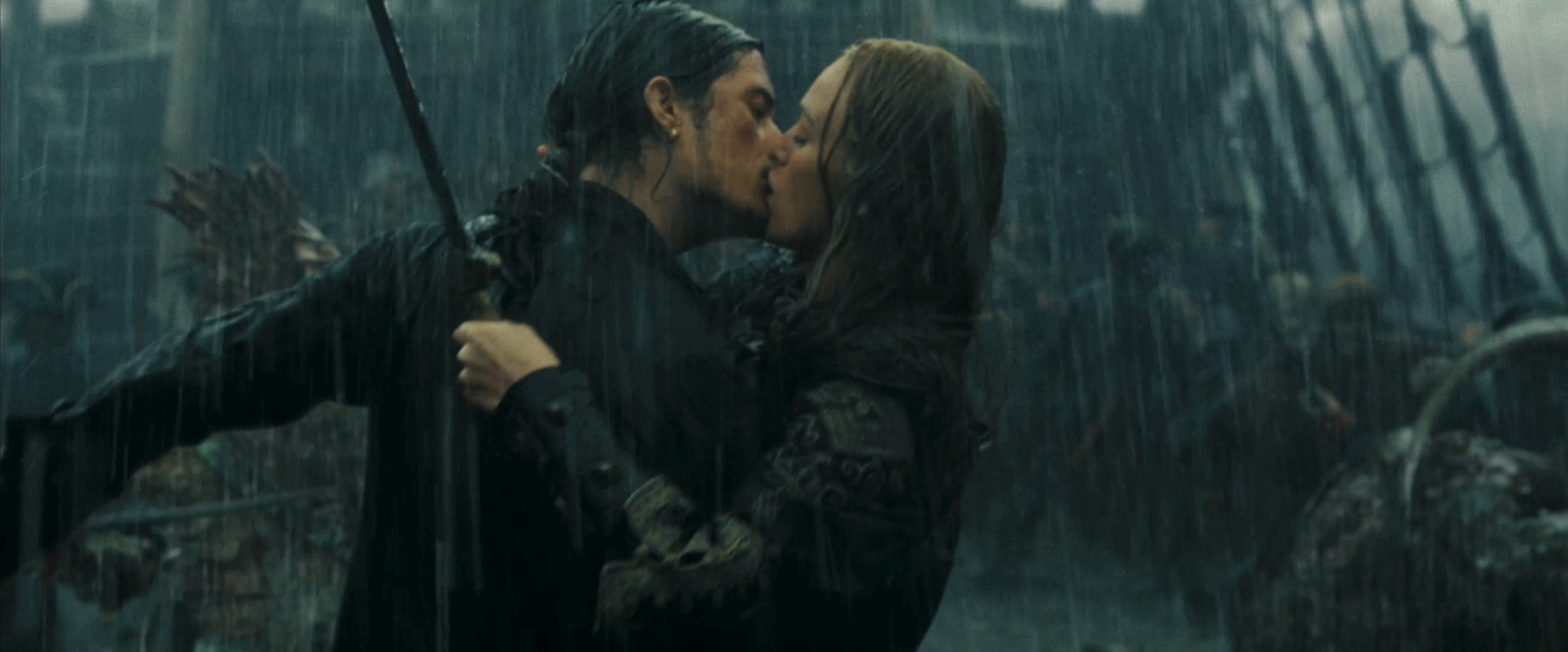 Of course I was going to include the infamous upside down kiss between Mary Jane and Spidey in the 2002 film! I remember seeing this particular kiss for the first time and thinking how utterly romantic and yet unpractical it was. Nevertheless it is such a beautiful moment that it deserves it's place in my list. It takes place in the rain (again) and is meant as a thank you from MJ as Spider-man has just saved her from possible rape. It's one of my favourites because it's female lead and the intensity of the kiss mirrors the fact that Spidey's identity may be fully revealed at any moment.
No, I am not talking about the kiss at the potter's wheel as unchained melody is blaring. Instead I have chosen Molly and Sam's final goodbye as he makes his way up to, I presume, heaven. This one is personal to me because I recently lost my mam and would of given anything for a final goodbye. The kiss happens as Molly finally believes that Sam has still been around to protect her and even though she is kissing an apparition, it's totally beautiful.
Oh my, this kiss starts as licking toothpaste from a face and ends in one of the strangest sex scenes I have ever witnessed on screen. The reason it's made my list however is the sentiment behind it, it's all about reconnection after loss and guilt, and for that reason alone it's so loving. For me, there's something really special about absolute love and for me it's never been more believable than between Laura and John Baxter in Don't Look Now. The film itself is so tragic that this kiss means even more.
So there it is, the first five on screen kisses I crave in a list of ten. Can you guess what made my top five?